Vendor Spotlight: Homestead Manor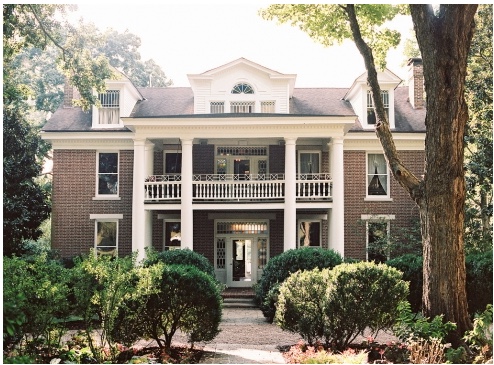 Today we are so happy to share the information about this gorgeous new venue Homestead Manor. If you haven't already please check out this venue, it's definitely worth it.
Tell us about your venue.
Homestead Manor is a multifaceted historic venue. On the grounds, which was host to the Civil War Battle of Thompson's Station and is protected by the Land Trust of Tennessee, sits the historic Manor which now houses our restaurant, Harvest. The restaurant is supported in part by our ever growing onsite farm, which comprises 40 of our total 50 acres. Our bridal suite is housed in a reclaimed and renovated one room Schoolhouse that was relocated to the property in years past. Lastly, we have our famous and grand event Barn, which was built in 2015 and is home to our many beautiful weddings!
What makes your venue different from other venues?
What really sets Homestead Manor apart is our experiential approach. Our goal is that every customer, be they a restaurant guest or a wedding guest, gets to see what an exciting and interconnected experience Homestead Manor is. We want you to meet our Farm Director, Steven, as he comes up to the Manor for lunch, and chat with our bartender, Spencer, as he makes you the best Bloody Mary you've ever had. Come take a walk with me or Ryan, our Associate Events Director, and let us tell you about Alice Thompson, a young teenager woman whose bravery on our property earned her one of the only female mentions in Civil War battle history. Get a friendly wave from Chefs Dylan or Carlos as they pop out to the herb garden for garnishes. Let yourself get immersed in all that is Homestead Manor!
For weddings specifically, we offer a unique blend of all-inclusive packages and planner-friendly packages. Having been both a planner and a venue director myself these last 10 years in the Nashville market, I know exactly how difficult it can be to work across different venues and ever changing policies and pricing structures. Consequently, I also know what planners need to succeed at a venue and I am definitely here to make that happen for them! It is important to us that planners know that they are welcome and wanted here at Homestead Manor. We will always make you proud!
What is the history of your venue? (How did it get started, etc.)
Homestead Manor has seen several iterations over the years, but the Marshall family (owners of the successful Puckett's restaurants) loved the property's history and wanted to make it a place that the Thompson's Station community and beyond could enjoy for generations to come. The best way to do that was to create as many touch points as possible, thus events, the restaurant, and the farm!
What are some of your wedding and reception options?
We have two outdoor ceremony locations, the shaded North Lawn and the sunny West Lawn, each with two different view options. Ceremonies of 75 or less can also take place on the South Lawn. Some clients also opt to hold both their ceremony and reception in our Barn, which is a quick and easy transition for groups of 150 or less. Cocktail hours can take place in our beautiful Shade Garden in front of the Manor, or on the Barn Patio. And of course, receptions take place in our gorgeous Barn, complete with stacked stone wood-burning fireplaces, giant chandeliers, and reclaimed wood walls. The Barn is climate-controlled and has attractive and subtle weather walls to make the space comfortable and usable whether Mother Nature deals us a cold, hot, or wet day. It can seat 200-250, or up to 350 if the patios are tented.
Does your venue require use of your preferred vendors, or are brides free to bring their own?
We do have required vendors within our different packages, but brides are definitely free to bring their own vendors for any services not included in the package that they chose!
In your opinion, which event (or type of event) has most creatively taken advantage of your venue, and what made that event a success?
As we are still within our first year of official event operations, we have so many great events yet to come in 2016 that we are planning with our clients now. I am particularly looking forward to the wedding we have coming up with the fantastic Jessica Sloane in May! The clients have bought out the entire property and closed the restaurant for the day, so we are going to be able to use the Manor and Glass Bar in new and creative ways for their guests!
Some personal questions about Amy:
Mac or PC? PC
Tea or Coffee? Coffee
Favorite local Nashville restaurant? Can I say Harvest at Homestead? ;) Haha!
Favorite movie right now? Being that I'm a wild west girl at heart, a documentary called Unbranded is a current favorite. Four young cowboys adopt and train over a dozen wild mustangs and ride them north through the wildnerness from Mexico to Canada. The cinematography is stunning and it tugs at my wanna-be cowgirl heart!