Vendor Spotlight: Nelson's Green Brier Distillery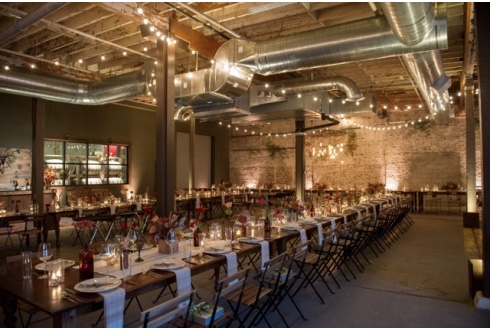 We are happy to be back to blogging our favorite vendors, this week we are featuring Nelson's Green Brier Distillery a industrial chic venue in Nashville. We spoke with The Director of Special Events, Katelyn to tell us more about the venue.
Tell us about the venue.
The Oak Room is very industrial chic. It is unique in that, even though it is an industrial look, our moss green walls, oak bars and whiskey barrels soften the room so farm tables and vintage furniture look great as well as modern decor. With 4300 square feet we can accommodate up to 175 seated guests and roughly 250 guests for a cocktail style event. There is a great glass roll up garage door to let in natural light and very easy load in! Email events@ngbd.com for more information and rates.
What makes this venue different from other venues?
The Oak Room is very different and unique because it is an extension and literally a window into Tennessee and American history. Nelson's Green Brier distillery has been resurrected by two Nashville native brothers hoping to keep their family legacy alive. The Oak Room gives you a peak into Whiskey creation and family ties. The location of Marathon Village is also rich in history, true to Nashville, TN, which is becoming hard to find these days with the volume of new development.
What is the history of the venue? (How did it get started, etc.)
Brothers Charlie and Andy Nelson opened the distillery in November 2014. After a thorough history lesson about their family name and the hidden gem of TN Green Brier Whiskey they were inspired to revive their great great great Grandfather's TN whiskey and bourbon brands and products. The products that are crafted here at the distillery were originally crafted in the late 1800's. The Oak Room was built out in July of 2015 in hopes to provide a venue to facilitate families in celebrating and creating their own family history through weddings and other private events as well as welcome the local community to share in the Nelson's rich history and delicious whiskey!
What are some of your wedding and reception options?
The 4300 square foot Oak Room is versatile in many ways. Being a large open space allows for many options when conducting a small ceremony and reception by bringing in Nashville's fabulous draping vendors to section off the room. We love our beautiful naturally worn white washed brick wall which extends through the ceiling. Our view into the barrel storage warehouse also provides a peak into our white oak barrels full of aging TN whiskey.
Does your venue require use of your preferred vendors, or are brides free to bring their own?
We have one exclusive rental vendor, for all other vendors Brides are welcome to bring in whomever they like.
In your opinion, which event (or type of event) has most creatively taken advantage of your venue, and what made that event a success?
We have had some really great welcome dinners and the planners have done an amazing job designing the room to really optimize flow and aesthetics. The corporate events that come in and have distillery tours and dinner really utilize every great benefit of The Oak Room and Nelson's Green Brier Distillery as well. We also hosted Whiskey and Yoga with Hatched Events this past February and it was a huge success and great use of the space!
Some personal questions about Katelyn:
Mac or PC? Mac
Tea or Coffee? Coffee
Favorite local Nashville restaurant? Husk
Favorite movie right now? Does Game of Thrones count as a movie?