Vendor Spotlight- Caley Newberry Photography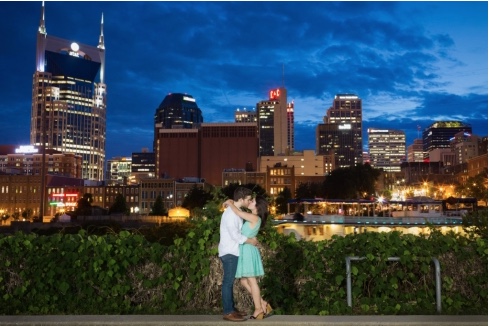 Today we are featuring Caley Newberry Photography on the blog today. How did you get into photography?
In what feels like another life, I was a sports reporter. It was a time when newspapers and magazines were first starting to see editorial cuts because the Internet was taking over, so the publication I worked for often wouldn't have a photographer to send with me when I was covering a story. They'd toss a camera in my hands as I was walking out the door and asked me to do what I could. Photography at the time was a passive thought, and I didn't put much effort into getting great photos until they credited me with a dark, blurry photo in the paper. I committed to learning how to use a camera, and in the process, fell in love. It all happened pretty organically from there. Friends decided I wasn't terrible at this and asked me to take their photos, which eventually turned into a few weddings, which became my passion. Who would want to take pictures of sweaty guys in tight pants, anyway? :)
What do you love about photography?
I love that photography preserves memories. Even in a photo-saturated, Instagram-everything world, each photo preserves something. Photos I've taken that didn't mean much to me at the time, have later come to mean the world to me. Even scrolling through my camera roll on my phone, I'll run across days I've completely forgotten about or find myself thinking "This is the last photo we took in this house" or, unfortunately, "This is the last time I saw this person." All of a sudden, those random photos are precious, and I love that photography allows me to capture those feelings and revisit them over and over for myself and for my clients.
What would you say is your photography style?
I've struggled with putting a name on my style, mostly because it feels cliche and boring to say that it's photojournalistic and classic. But I know that's the truth. I've always done my best to assure that the photos I take survive the test of time, so to speak. I don't choose to use presets or trendy edits, not because I don't think they're beautiful — I think they're wonderful! — but because I'd rather my work look as timeless as it can. I'm mostly drawn to images that are shot tight and filled with color, so that's what I shoot!
Do you shoot digital or film?
Aside from my polaroid land camera that I pull out for fun sometimes, I'm all digital.
Tell us why brides should choose you to capture their wedding day.
There are so many incredible photographers in this city, so I believe so much of whom you hire is about how comfortable you are around that particular photographer. I want my brides to feel like we can be friends, and they can relax, feel comfortable and laugh on our shoots! (This is especially important for boudoir clients!) I'm a little bit awkward and very go-with-the-flow. I really take the time to get to know my clients, and that's not for everyone. If it is, and they want the kind of photographer that will possibly reply to an email with a GIF, I'm their girl!